Exhibit A: My fascination with

Kate Moss

might never ever ever end. This video is more amazing than the one of her doing blow. WOW! (link via Defamer).

Exhibit B:

Jared Smith

, guitarist of

Vagenius

, is starring in the new buddy comedy,

I'm Your Primate!

Here's the first exclusive picture.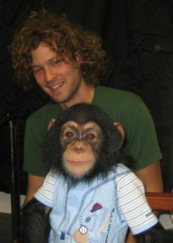 Exhibit C: Suddenly, I've developed a mini-obsession with contemporary country music. Please go here and listen to a sample (and luckily, my favorite part) of

"Tequila Makes Her Clothes Fall Off"

by

Joe Nichols

. Also, check out the awesome

Gretchen Wilson

with

"All Jacked Up"

right here and also try to find her amazing song

"My Give A Damn's Busted."

And also

"I'll Take That As A Yes"

by

Phil Vassar

is out of control dope. This is from the bottom of my heart. If I had a danceparty to DJ, I would play these songs... unironically.

Exhibit D: The new

Cat Power

record is the jump off.