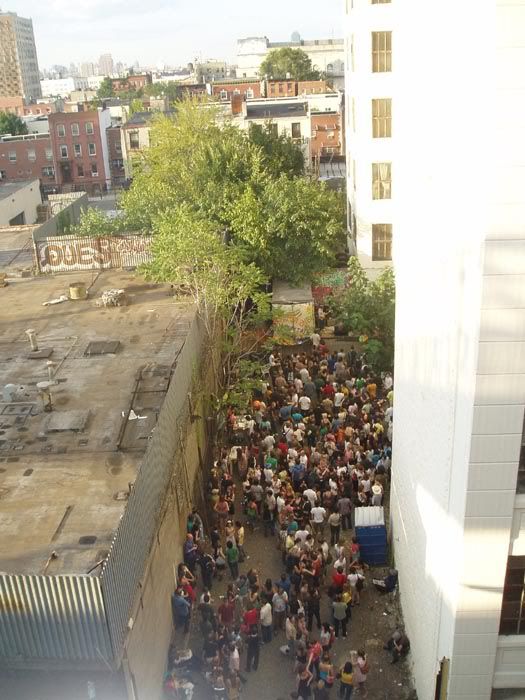 This blog entry was constructed in the evening, in my home and posted during the workday because at home I work off a Mac, which hinders my ability to post html-rich text.
I'm not mentioning my (obvious, angry) thoughts about Katrina, the relief efforts, the lack of help for the hurricane victims in the public sector, etc, because it seems pointless and self-indulgent. But if you want to feel useful, go
here
and let a hurricane victim crash at your house for a few days. Lindsay Lohan is doing it.

This past weekend, saw
Xiu Xiu
at Bowery (good show – snob crowd) and
Oneida
with
The Double
at a parking lot in Williamsburg. The parking lot show was run by
Mighty Robot
, who declined to mention the $10 cover on any listings or flyers. Since I didn't have $10 at the time, and wasn't keen on paying an extra $1.50 ATM charge, I simply climbed the Wburg bridge and watched the show from the walkway. The tall buildings made for some pretty excellent acoustics. The Double sound a lot less experimental now than they did two months ago. Bird's eye photos to follow.

Last night, dropped by the Stellastarr record release at Maritime. Schmoozey. Missed Iha's set.

Beck
internet pre-sale
starts tomorrow 10am for the 10.6 Hammerstein show! Password is: rentalcar


Sanctuary Records
, home of Morrissey, Tegan & Sarah, Kelly Osborne, Blues Explosion, and mothafuckin Robert Plant, is rumored to be closing shop.

Why does listing the Sahara Hotnights show make me feel old? And you may think it's weird for me to list a $25 drum n' bass show like Roni Size, but New Forms is one of the most solid records ever. Special CMJ event list to follow.



Today Drunk v. Stoned Soccer @ Chelsea Waterside Park, 2pm, FREE to watch
Tonight Double Deitch opening @ both
Deitch Projects
, 6pm, FREE
*Tonight Christina Iglesias opening @
Marian Goodman
, 6pm, FREE
Tonight VICE Store
Uniqlo
Drop @ VICE Store, 7pm, FREE w/
RSVP
Tonight Green Street Hooligans screening @ Clearview Chelsea, 7:30pm, FREE
*Tonight
DGN
listening party @ Mannahatta (316 Bowery / Bleecker), 8pm, FREE
*Tonight
Bang!
w/ The Captain @ China 1, FREE
Tonight Bust! @ Boys Room, FREE (open bar 10:30-11:30)

Tomorrow Matisyahu + Mobius Band @ Webster Hall, 7pm, $20
Tomorrow Roni Size @ Spirit (530 W 27th), 10pm, $25 adv
*Tomorrow Force Field screening @ Monkeytown, 7:30 & 10pm, FREE w/
RSVP

Fri 9.9 Bloc Party + The Kills @ Roseland, 6:45pm, $25
Sat 9.10
Deitch Art Parade
@ Grand St, 4pm, FREE
Sat 9.10 Measles Mumps Rubella @ Southpaw, 8pm, $10
Sat 9.10 Sahara Hotnights + The Hong Kong @ Mercury Lounge, 8:30pm, $12
Sat 9.10
Le One Night Stand
@ Scenic, FREE
Mon 9.12 Sigur Ros @ Beacon Theatre, 8pm, $33.50
Tue 9.13 Robbers On High Street + King Of France @ Scenic, 7:30pm, FREE
Wed 9.14 Dungen @ Maxwell's (CMJ), 8pm, $14
Wed 9.14 The Flesh @ Northsix (CMJ), 8pm, $12

Ongoing Billy Wilder Fest @ Museum of the Moving Image, $10